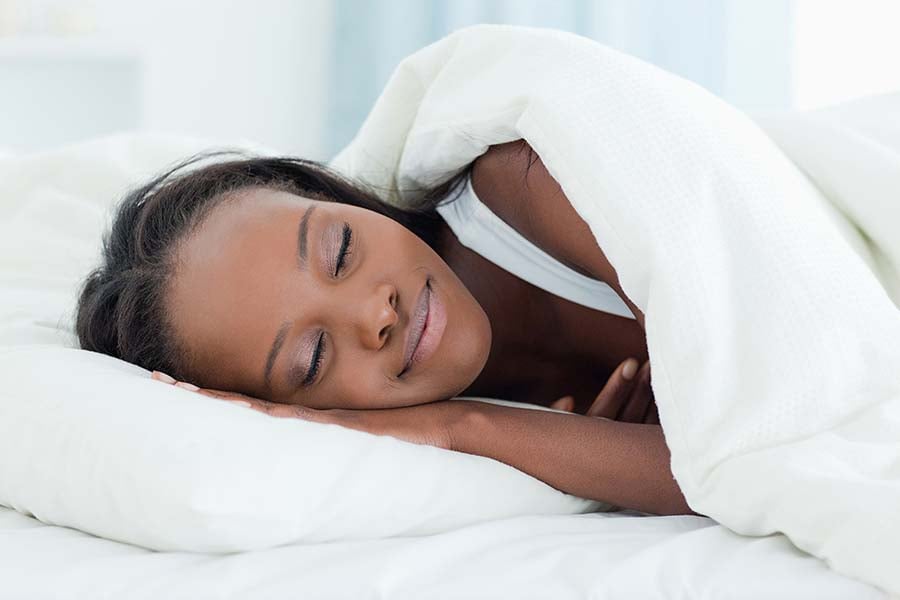 We've all been there: tired, irritable, and finding it hard to think clearly. Not getting enough sleep can affect your work, personal relationships, physical abilities, and more. But did you know that if you consistently miss out on quality sleep time you could be harming your health? Insufficient sleep has been linked to the development of many health challenges, including weight gain, blood sugar control, cardiac weakness, and frequent mental distress.

According to the Centers for Disease Control and Prevention, more than a third of adults do not get the recommended amount of sleep on a regular basis.

The American Academy of Sleep Medicine and the Sleep Research Society suggest that anyone between the ages of 18 and 60 sleep at least seven hours per night to support optimal health and well-being.

"I see patients with sleep challenges at least five to seven times a week," said Martha Hall, DAOM, ACN. "Sleep is essential for physiological energy in the brain and body. It affects you in so many ways."

Fortunately, some lifestyle changes may help you fall asleep faster and stay asleep longer. When her patients experience nighttime challenges, Dr. Hall recommends the following helpful tips.
1. Stick to a Routine
Create an evening ritual so you can relax and prepare yourself for sleep every night. This winding-down routine may include:
A cup of herbal tea
A warm bath
A bite-sized protein snack (like sunflower butter on celery)
Meditation
"I often suggest my patients repeat a simple mantra over and over right before bed or while in bed," said Dr. Hall. "It helps calm the mind and body."


2. Sleep in the Bedroom
The bedroom should be reserved for sleeping only, with no television or reading while in bed. Dr. Hall also recommends that you do not listen to music before bedtime unless the music is relaxing or meditative. Make sure the bedroom is dark and quiet or use an eye mask and earplugs.
3. Limit Stimulants
After 3 p.m. do not consume caffeine, which can be found in coffee, tea, soft drinks, and chocolate. It is also wise to avoid nicotine and alcohol close to bedtime. While alcohol may help you fall asleep, it can interrupt your sleep later in the evening.
4. Unplug
Computers, tablets, and smartphones emit artificial blue light that can throw off the body's natural circadian rhythm, a 24-hour cycle of physiological processes. A good habit to get into is shutting down devices two to three hours before bedtime.

"Social media can be distressing. One article can lead to more and more articles," Dr. Hall said. "It's better to unplug before bedtime."
5. Exercise
Aerobic exercise, strength training, and yoga can all help improve your quality of sleep. If stress keeps you awake at night, the rhythmic stretching and relaxing poses of yoga can help you fall asleep faster.
6. Eat Healthy Foods
"When they aren't sleeping well, my patients often eat more fast food or prepared foods because they don't have the energy to cook a good meal," Dr. Hall said. "It's a bad habit to get into. When you are feeling healthy and well-rested, you tend to eat healthier foods."

Your diet should include foods that can increase serotonin levels and get your body ready for sleep, such as:
Complex carbohydrates: whole-grain bread, cereal, pasta, crackers, and brown rice
Lean proteins: low-fat cheese, chicken, turkey, and fish
Heart-healthy fats: peanuts, almond butter, walnuts, almonds, cashews, and pistachios
Try some of these healthy lifestyle changes tonight and you may wake up to a brighter tomorrow!