2023 SP Detox and Purification Challenge: Winners Announced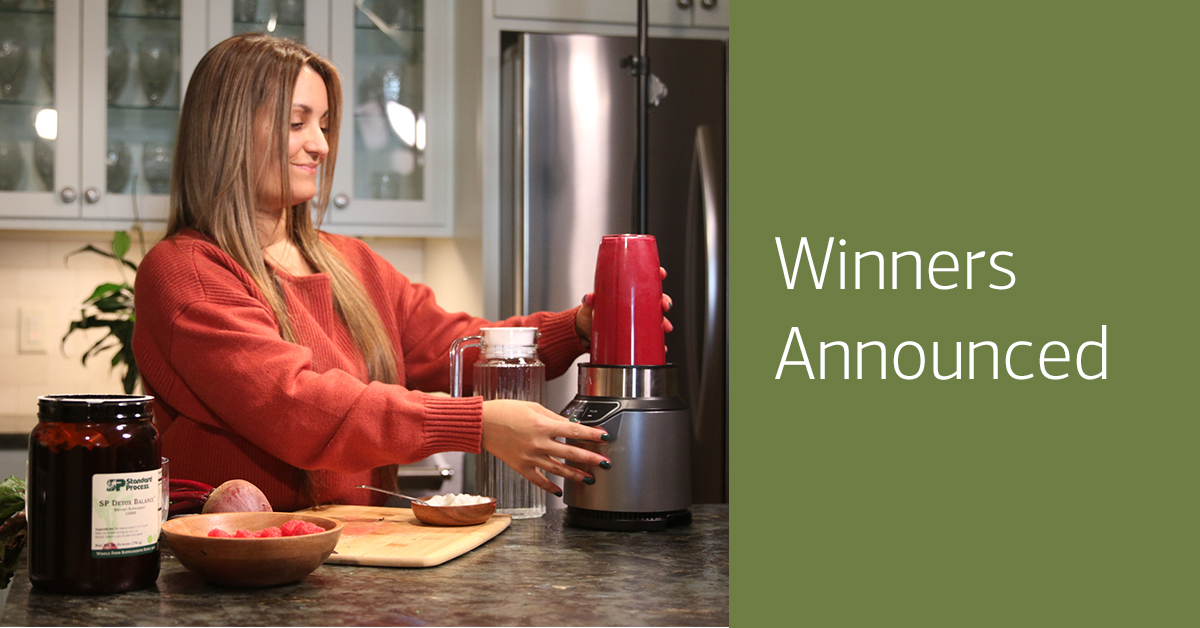 We want to thank everyone for their continued support of the SP Detox and Purification Challenge and for taking a step towards a healthier you. We congratulate each and every one of the 1,873 participants. We also want to offer a special congratulations to our prize winners:
Donald (Prescott, AZ)
HCP: Dr. JJ Quinn- Catalyst Wellness
Bea (Winchester, CA)
HCP: Dr. Galbraith- Galbraith Chiropractic Associates
Constance (Connie) (Salina, KS)
HCP: Dr. Charles Romm- Romm Chiropractic
We are excited to announce that the above-mentioned winners will receive an all-expenses paid trip to Wisconsin for the patient, their practitioner, and a guest (must be 18 or older) for their efforts in this year's program. They will visit our farm and manufacturing facility, enjoy lunch with our Standard Process thought leaders, and spend two nights at the Grand Geneva Resort and Spa. There they will be able to enjoy activities such as golfing, a spa retreat, premier restaurants, and more.
What is the Detox and Purification Challenge?
Standard Process has two programs focused on elimination of potential toxins: the 21-day Purification Program and the 10- or 28-day SP Detox Balance™ Program.
At the beginning of each year, we host the Detox and Purification Challenge which encourages new and past program participants to band together to complete the program of their choice. Participants support each other and answer each other's questions so that they can work together towards changing their lives.
The 21-day Standard Process Purification Program isn't just a cleanse diet. It's a structured program that brings healthy lifestyle habits into focus. It's designed to purify, nourish, and help patients maintain a healthy body and weight. It's also easy to follow by eating whole foods, exercising, drinking nutritious shakes, and taking supplements made with whole food and other ingredients. The menu includes a varied abundance of fresh vegetables and fruits for the first 10 days, with select proteins added on day 11.
The SP Detox Balance™ Program asks patients to follow a simple regimen in the Program Guide, including the required number of shakes per day. Just mix the SP Detox Balance powder with water (or other approved beverage) and enjoy — morning, noon, or night!
Since 2019, we've held this purification challenge in hopes to share the wealth of healthy lifestyle habits to everyone. Since the launch of this program, we've had thousands take the leap towards a healthier lifestyle.
About the Detox & Purification Challenge Contest
After challengers complete their chosen program during the Detox and Purification Challenge, they're invited to submit their story about their experience. Out of the hundreds of submissions, three winners were chosen from the 2023 challengers to win the trip of a lifetime: visiting the Standard Process organic farm and manufacturing facility in Wisconsin along with a luxurious three-day wellness spa stay for themselves and a guest.
Here's a look into our Detox and Purification program:
Purification Program:
The 21-day purification program helps patients purify, nourish, and maintain a healthy body and weight.*
All eight purification program kits are gluten-free and vegetarian:
SP Detox BalanceTM:
SP Detox Balance supports whole body detoxification and helps your liver in the processing and removal of toxins from your body.*
Supports the body's natural metabolic detoxification processes*
Supports the body's natural toxin elimination function*
Excellent source of protein (17 g per serving) from pea isolates, pumpkin concentrate, oat flour and buckwheat flour
Provides amino acids required for conjugation enzymes (phase II enzymes)*
Excellent source of iron
Good source of choline, dietary fiber, and plant-based magnesium
Gluten-free
Vegan
We encourage everyone to talk to their health care practitioners about this program — a healthy lifestyle can be started at any point in your health journey. For more information on this program, check out our purification program.
We hope you had a positive experience and look forward to supporting you and your patients on a journey towards a lifetime of wellness. Please join us again next year for the 2024 SP Detox and Purification Challenge.
While you wait: The Facebook communities remain active, and we encourage you to join in the conversation — give inspiration, get inspiration, and enjoy the benefits of a healthier lifestyle.
Want to be notified about our next Detox and Purification Challenge? Sign up below!
Get notified about our next challenge
*These statements have not been evaluated by the Food and Drug Administration. These products are not intended to diagnose, treat, cure, or prevent any disease.